In March, I attended the esri #devSummit, which took place in Palm Springs, CA. Three days full of Apps, Beer and Codes. It started with a great Plenary Session involving all the esri Superstars, the Product Managers, Jack and a surprise guest: will.i.am (http://arcg.is/1DEncdR).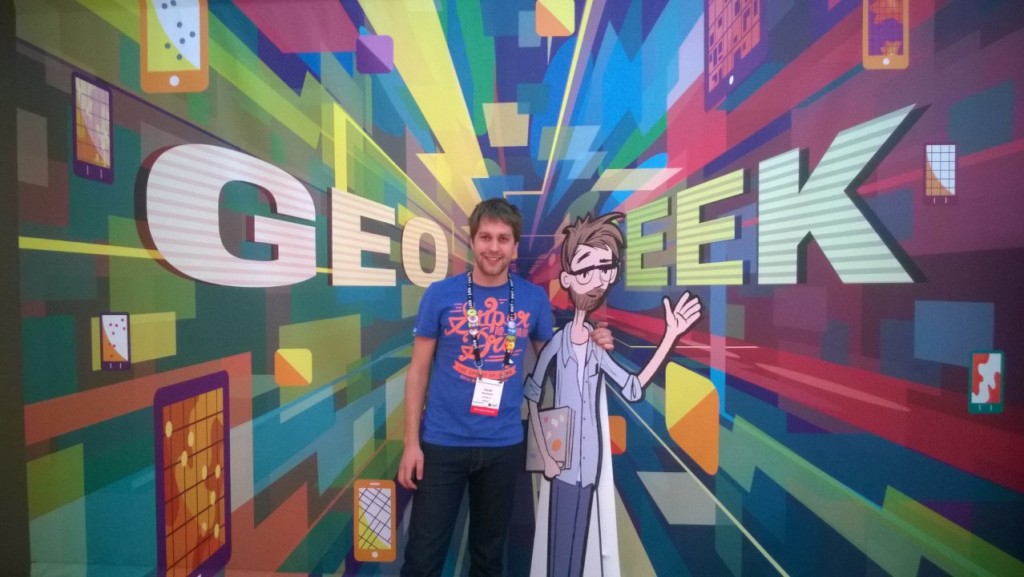 Daniel GeoGeek
The Plenary Session
The topics covered at the Rock and Roll Plenary Session were mostly about the new features and the future release of esri products. New trends in GIS, which are available by esri, include (see the links to the videos of the devSummit):
All the videos about the Plenary Session are available here (click on the picture)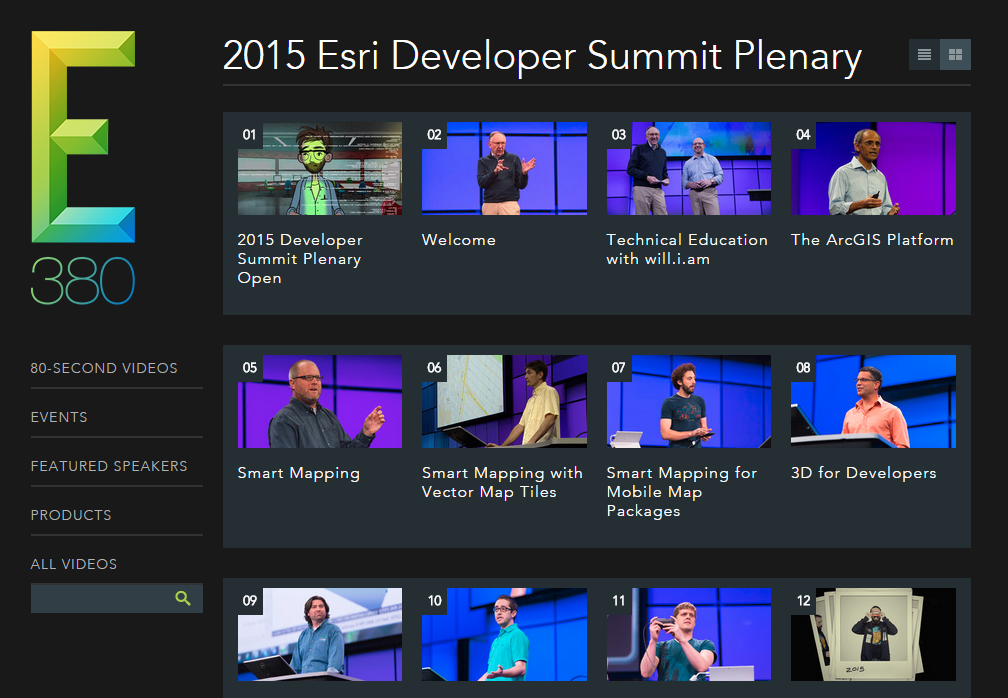 And the videos about the technical Sessions are here
 The Technical Sessions
The agenda of the technical session can be found here
The sessions I followed are the following:
Raster Analysis with Python
Accessing Geodatabases using SQL
Accessing gdb using Python
Deep Dive into ArcGIS, BigData and Algorithms
Latest Innovations from esri's Application Prototype Lab
Delimitation of evacuation Trigger Buffer using Farsite and GIS – Spatial Sciences Institute
Enabling High Quality Printing in Web Application (See full slides here http://bit.ly/19eYbsn)
The Road ahead: esri's App Strategy
The Road Ahead: Desktop and Pro
Map Automation using Python
Here's the tweets of Esri BeLux during the session
Raster analysis using Python! A lot of opportunities for scientific studies #esridevsummit #devsummit pic.twitter.com/ET0LCTda8X

— Esri BeLux (@esribelux) March 10, 2015
Accessing geodatabases using #SQL! Cool stuff to access DIRECTLY the db #DevSummit #esridevsummit #esri pic.twitter.com/FMX5VbL02k

— Esri BeLux (@esribelux) March 10, 2015
Accessing gdb using #Python! Automate your processes using scripting! #Esri #esridevsummit #devsummit pic.twitter.com/bsRV5go9uu

— Esri BeLux (@esribelux) March 11, 2015
Integration of Big Data Live feed into ArcGIS using Galactica #DevSummit #Esri #geodev pic.twitter.com/0ztqxVkooJ

— Esri BeLux (@esribelux) March 12, 2015
Attending Deep Dive into ArcGIS, BigData and Algorithms at #esri #devsummit – plotting MILLIONS of data in a map pic.twitter.com/hOXuPCOxkI

— Armand Ruiz (@armand_ruiz) March 12, 2015
Online printing: Map of parcels and the attached legal documents! Ideas for esri BeLux's ArcCommuneo #DevSummit #esri pic.twitter.com/oku4ZR4I9U

— Esri BeLux (@esribelux) March 12, 2015
The Road Ahead: Google StreetView integration ! #DevSummit #Esri #geodev pic.twitter.com/GgC1KGmYfp

— Esri BeLux (@esribelux) March 12, 2015
Navigator for #ArcGIS: The #GPS navigation experience made by Esri! #DevSummit #geodev #esridevsummit pic.twitter.com/DAYK0EaGvK

— Esri BeLux (@esribelux) March 12, 2015
Field Assistant for #ArcGIS: Manage your on field workers! Know where they are and interact! Great app! #DevSummit pic.twitter.com/yr9ktDeVoT

— Esri BeLux (@esribelux) March 12, 2015
 Additional Stuff
From the Esri Prototyp Labs, we gathered the list of the following Web Applications  (http://bit.ly/1DtECs1):
My Feedback
It is quite impressive to see where we now stand in the GIS world. Esri, but in general the whole GIS actors, have developed so many things the lasts years that the importance of GIS in business and in everyday's life becomes a necessary topic.
Who thought, 10 years ago, that GIS would become so democratic in our everyday's life? Everybody uses GIS, even without noticing it. It goes from the GPS in your car that describes you the way to destination to the integrated GPS in your mobile phone, which allows you to check-in at places of interest. The world is more and more mobile oriented, so are the GIS applications.
In Business, GIS are used by Land Surveyor to keep track of their measures, to organize them and to convert these data into useful information. Mobile applications, such as those running on tablets, allows the land surveyor to perform all the tasks directly on the field (data correction, running algorithms on them, etc). GIS is also an important key point in Marketing. A lot of agencies use the wonderful localization tools to put shops on a map, and to analyze empty areas to set up new instances.
These are just a very few examples of use of GIS. In my opinion, the trend in which GIS is growing is not ready to be stopped and GIS will take even more place in our lifes as technology evolves.
To finish, let's show you that GIS Engineers are funny people too! Here's a picture of the Dodgeball Tournament that was the endpoint of the Developer Summit.
Let the #Esri dodgeball tournament begin! #DevSummit pic.twitter.com/hD6YgfthdM

— Esri BeLux (@esribelux) March 13, 2015